How to Find the Best Bankruptcy Attorney in Frisco, TX
If you're facing bankruptcy and need the best bankruptcy attorney in Frico Texas you're likely overwhelmed by overwhelming debt. This stress can be compounded when trying to navigate the bankruptcy process on your own. Failing to maximize the benefits of bankruptcy can have lasting consequences. That's why it's crucial to seek the guidance of an experienced Irving bankruptcy lawyer. They can provide the support and expertise needed to make informed decisions that will pave the way for a fresh start and financial freedom. Get the best bankruptcy Attorney in Frisco-We understand how emotionally draining bankruptcy can be. (214) 282-5024
The Means test: Bankruptcy is a federal process designed to aid individuals overwhelmed by excessive debt. It allows them to either sell assets to repay debts or establish a repayment plan. Petitions can be filed by individuals, couples, municipalities, corporations, or other entities. Bankruptcy cases are overseen by federal courts, adhering to guidelines outlined in the U.S. Bankruptcy Code. Each type of bankruptcy is commonly referred to by its corresponding chapter in the code, including:
Each type of bankruptcy is generally referred to by the relevant chapter in this code and includes:
• Chapter 7
• Chapter 9
• Chapter 11
• Chapter 12
• Chapter 13
• Chapter 15
Indications of a Strong Bankruptcy Attorney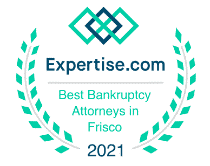 Choosing the right bankruptcy attorney in Frisco TX is crucial for the success and smoothness of your case. With numerous options available, it's crucial to filter your search effectively. Here are some factors to consider in finding the ideal attorney for your needs: Considering these factors can help you find an attorney who is right for you:
• Local to Your Area
While bankruptcy is a federal process, it's important to note that rules and regulations can differ among locations. Choosing a local attorney ensures they are familiar with applicable laws, ensuring proper management of your bankruptcy. Additionally, a local attorney is well-versed in the financial climate and specific needs of your community. When searching for a Frisco attorney, prioritize those experienced in handling cases in your area.
• Positive Reviews
Attorneys for bankruptcy in Frisco, TX rely on a good reputation within their community, making it crucial to assess their standing before hiring. Seek input from those who have previously consulted with an attorney for bankruptcy, as they can provide valuable experience. You can also search the web for reviews on attorneys you are considering, which offers insights into their expertise and team.
• Experience With Situations Similar to Yours
Every bankruptcy is unique, tailored to the individual or family filing, and it's important to find an attorney who understands the specific nuances of your case. It's crucial to inquire about the attorney's experience in handling bankruptcies similar to yours to ensure they are well-versed in the relevant rules and regulations. It's particularly important that they have expertise in the specific chapter of bankruptcy you are considering. Moreover, attorneys who specialize in bankruptcies should be given more weight than those who handle a broader spectrum of cases. Contact Veronica Deaver today
• Personality Mesh
When consulting attorneys, personality is as crucial as skill. Bankruptcy is deeply personal. Being open about such an emotional situation is tough. But, for a successful bankruptcy, honesty with your attorney is essential. Select a lawyer you can openly communicate with and who matches your communication style.
• your own should be strongly considered when choosing your lawyer.
Q: Will I Be Forced to Surrender All My Assets If I File for Chapter 7 Bankruptcy?
A: Filing for Chapter 7 bankruptcy Frisco Texas doesn't mean losing all assets. Federal and Texas laws offer exemptions to protect certain assets from liquidation. Texas laws are particularly favorable, with exceptions for property below specified acreage limits in rural or town areas.
Q: What Is Loan Modification?
A: Loan modification is a viable alternative to bankruptcy. It involves negotiating a modified loan agreement between a creditor and debtor, resulting in a reduced payment amount. This enables the debtor to avoid bankruptcy and allows the creditor to recoup at least some of the debt. Experienced bankruptcy attorneys can effectively approach creditors for debt negotiation.
Q: Will My Credit Score Be Severely Impacted by Filing for Bankruptcy?
A: The impact of bankruptcy on your credit score varies based on factors like your existing score, credit history, and other credit factors. Bankruptcies can stay on your credit report for up to ten years, which can lower your score and make it harder to acquire new lines of credit. However, if your score is already low and the bankruptcy lowers your debt-to-income ratio significantly, your score may improve.
Q: Will I Have to Go to Court If I File for Bankruptcy?
A: In most cases of bankruptcy filings, you'll only need to attend a meeting with creditors, known as the "creditors' meeting." Here, you'll meet with any attending creditors and the bankruptcy trustee. This meeting is typically brief and straightforward, involving questions regarding your financial situation and bankruptcy documents. Unless there are complications or you contest your debt, a court appearance is not necessary.
Dedicated Bankruptcy Representation
As specialists in consumer bankruptcy, Veronica Deaver Firm is committed to ensuring your financial future. We empathize with the complexities and emotional toll of bankruptcy, offering a non-judgmental approach to your case. Whether bankruptcy or debt modification is the better choice for you, our team is prepared to take on your case. Schedule a consultation today. We Serve: Collin County Cities & Towns: Allen / Anna / Blue Ridge / Carrollton / Celina / Copeville / Dallas / Fairview / Farmersville / Frisco / Garland / Josephine / Lavon / Lowry Crossing / Lucas / McKinney / Melissa / Murphy / Nevada / New Hope / Parker / Plano / Princeton / Prosper / Richardson / Royse City / Sachse / Saint Paul / Van Alstyne / Weston / Wylie ZIP codes for Frisco, Texas are: 75034, 75035, 75068, 75070, 75024